The use of these proven, teacher-friendly tools will unquestionably engage learners while enhancing the quality of classroom assessment practices.
Jay McTighe
A 'must have' addition to every teacher's library and a terrific resource for professional development!" Pam Robbins
This amazing, extensive, and well-researched collection of instructional tools should be in every teacher's professional library.
Arthur L. Costa, EdD
Why Tools?
Our award-winning line of Tools books is founded on a recognition that too often goes unstated: teaching is hard work. That's why we've spent over thirty-five years working with educators to turn the best educational research into practical techniques that are easy to implement in the classroom. We call these techniques tools because they're designed to make the hard work of teaching easier and more effective.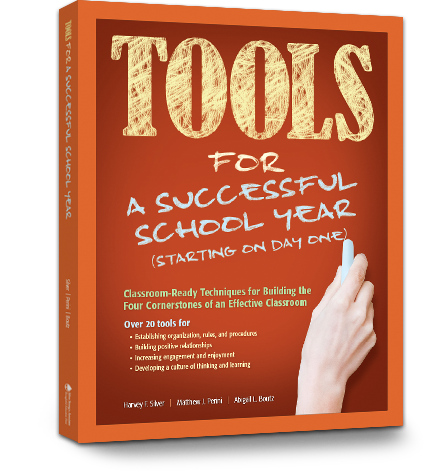 Make next year your most successful yet with Tools for a Successful School Year (Starting on Day One)
Make this year the year of better student behavior, stronger classroom relationships, increased student engagement, and higher levels of thinking and learning. When it comes to student behavior and achievement, the classroom environment you establish makes all the difference. But what makes successful classrooms truly successful? What do highly effective teachers do to promote positive behavior and high levels of learning all year long? Tools for a Successful School Year lays out the essential elements that characterize effective classrooms. More important, it provides over twenty ready-to-use tools for building these "cornerstones" in your classroom, regardless of the grade level or content area you teach. This book gives you the practical techniques you need to make this year your most successful yet—starting on day one.
MORE INFO
BUY NOW!
Want more info?
Contact us for more information about the Tools for Today's Educators Series™
Contact Us